In-Kind Donations
We greatly appreciate donations in kind as they often also meet the needs of our home through direct purchase and delivery. Items that the home currently require are as appended below. These include the daily needs of the elderly for both meals as well as equipment.
RATIONS
Milo

Coffee 3-in-1

Tea 3-in-1

Jam

Kaya

Instant/Cup Noodles (Curry or chicken flavour)
Condensed Milk
Sugar (1kg or 2kg packet)
Glucerna or Ensure Milk Powder (vanilla)
*We don't need Rice, Cooking Oil, Salt, Fresh Ingredients
OTHER DONATIONS: 
Square Face Towels (best to be thick material – 30x30cm)
Bath Towel
Karaoke Set, Wireless Microphones
Stainless Steel Trolley (2 tiered)
Tena brand Adult Diapers: M & L sizes, stick-on type (not diaper pants type)
Pulse Oximeter
Oxygen Concentrator* (Devilbiss 5L, Yuwell 5L, or Philip 5L) – 6 units
List is updated as of 20 March 2023
Grant a Resident's Wish!

Some of our residents have simple wishes that we hope you can fulfill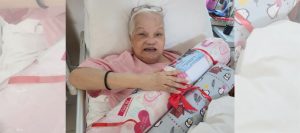 Wireless Karaoke Microphone Speaker (10 pax)
Individually packed snacks (cookies, cakes … etc)
Jenga
Rummy-O
Small analogue desk clock (10 pax) – wish fulfilled
Pork Floss (8 pax) – wish fulfilled!
Colour Pencils (5 pax) – wish fulfilled!
Small Birthday Gifts
Once a month, we hold a mass celebration for our residents.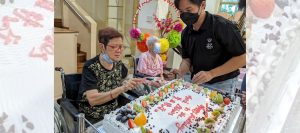 If you would like to help with our birthday celebrations, you can contribute the following:
Birthday cake (at least 3kg) – no hard fruits
Small Pillow
Neck Pillow
Comb
Socks
Dental Kit
Vicks Vaporub / Tiger Balm
Small Bags (for putting the goodies in)
PROJECT MAKAN
Support our residents by bringing in comforting foods to 120 of our residents on regular diet.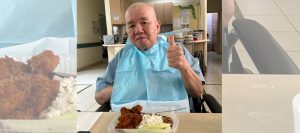 Tea break, 1pm (Individually packaged snacks or drinks
e.g. bread, muffins, sandwiches, cakes, desserts)
Lunch, 10am or Dinner, 4pm*
(Non-spicy + boneless Hawker Fare/Bento)
*Kindly contact us for more details

Please direct all deliveries to No. 130 Hougang Avenue 1, S(538900), our Security available 24/7.
Office hours (Mon- Fri: 9am-5pm)
Please contact the Corporate & Community Relations (CCR) Team for more information:
Call: 6922 1526
WhatsApp: 6922 1529
enquiry@societyagedsick.org.sg